05 Aug

Insights on How the Medicaid Management Information System Makes Use of TPL Data

Third parties are organizations or people who are legally liable for paying the healthcare claims of Medicaid beneficiaries. Federal legislation and policies mandate states to guarantee that Medicaid is to be the payer of last resort. Medicaid beneficiaries are consequently obligated to utilize all other sources attainable to them to pay for all or part of their medical needs before relying on Medicaid.

Third Party Liability (TPL) is commonly regarded as 'other insurance'. Other insurance is actually regarded as a third party resource (TPR) for the Medicaid beneficiary.

TPR could likewise be medical insurance, casualty coverage arising from an accidental injury, or even payments acquired directly from an individual that has either willingly accepted or been relegated legal liability for the health care of one or more beneficiaries. Third parties include:
Commercial health insurance*
Employment-related medical insurance*
Medical assistance from absent parents
Court rulings or settlements from a liability insurance provider
State worker's compensation
First party probate-estate recoveries
Additional Federal programs, (e.g. Medicare, V. A., CHAMPUS, etc.)
Those with an "*" in the list above are the types of insurance that are listed on the MMIS (Medicaid Management Information System) TPL file. Medicare data is listed separate from TPL insurance coverage in the MMIS.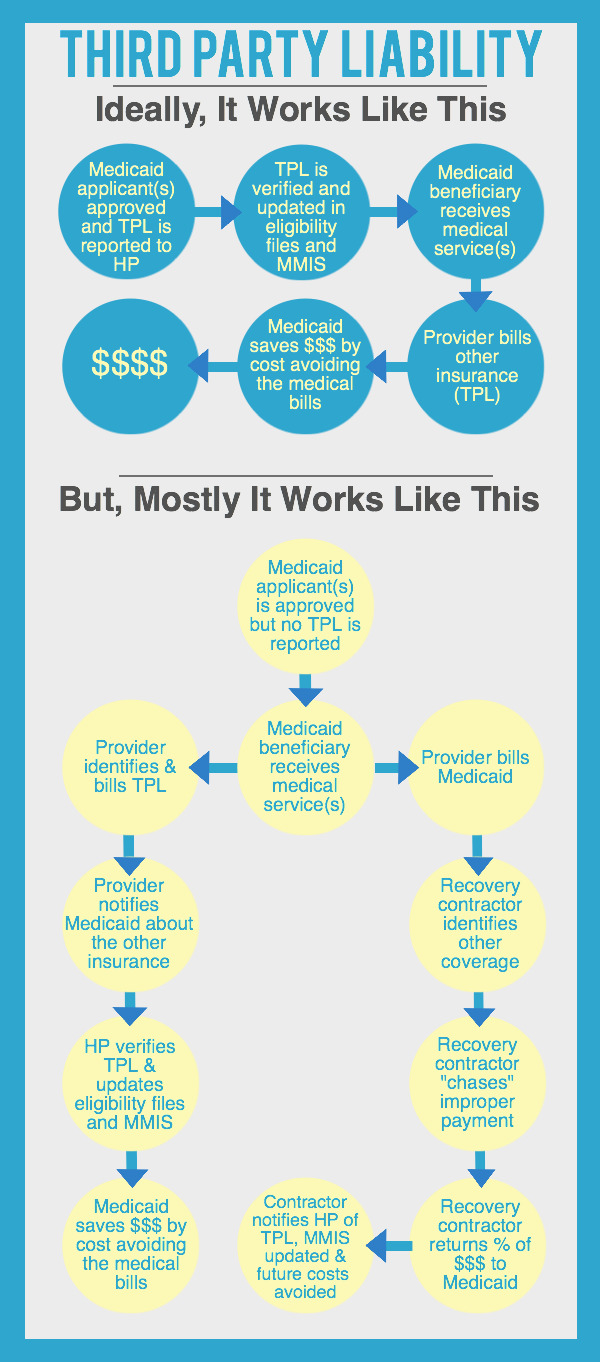 Third Party Liability details might stem from multiple sources. Most typically they come directly from the beneficiary at the time of application for Medicaid or anytime following approval for benefits. Many leads arise from providers through the submission of claims indicating other insurance or a straight referral to state Medicaid agencies. Leads could likewise come through a process called "pay and chase" typically executed by an outside provider or company.
The eligibility employee at the time of application asks many questions that can help establish whether or not there are other possible resources to compensate for health care services before Medicaid should pay. When medical insurance coverage is discovered, the eligibility worker requests and photocopies insurance cards, and refers them to state TPL units for verification. This is an extremely important step toward ensuring accurate TPL data is in the MMIS from the start.
If the Third Party Liability information in the MMIS is inaccurate, it might trigger the denial or prolonged processing of claims. Providers will try to hold the beneficiary responsible for payment of these denied claims until the TPL is properly input in the MMIS. Comprehensive and precise information in the MMIS or a MCO's eligibility files conserves dollars, time and worry for everyone.