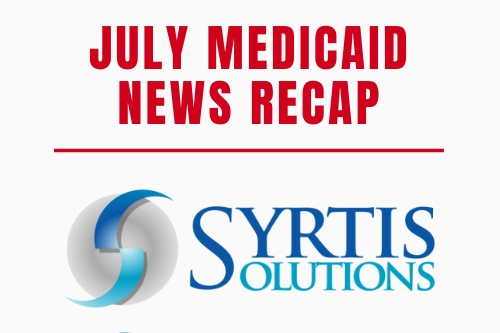 31 Jul

JULY MEDICAID NEWS RECAP

Syrtis Solutions distributes a Medicaid newsletter on a monthly basis to help you stay informed. The newsletter focuses on legislation, insights, comments, and industry developments relating to Medicaid integrity, cost avoidance, improper payments, fraud, waste, and abuse. Here is a summary of last month's noteworthy developments.
---
Molina Healthcare (Molina) will acquire the Passport Health Plan (Passport) Medicaid and dual special needs plan, Molina announced. The healthcare companies have agreed to a price of around $20 million for the purchase. In addition to the initial cash transaction, Molina may make an additional payment in 2021 based on Molina's Kentucky health plan performance during 2020 open enrollment. "Acquiring the operations as well as transferring over employees of Passport Health Plan provide us with a well-known brand in Kentucky and position us well to compete even more effectively in the market," Joe Zubretsky, president and chief executive officer of Molina, said in Molina's press release on the acquisition. "We look forward to being able to achieve a major objective of this transaction, which is the continuity of care for Passport's members." By mentioning continuity of care, Zubretsky alluded to the major upset of the Kentucky Medicaid managed care contracts which were awarded earlier this year.
The Supreme Court recently ended its 2019 term, which included two Affordable Care Act (ACA) decisions and several other decisions with implications for ACA cases. Briefing in California v. Texas is ongoing and will be heard later this fall, with a decision expected in 2021. Beyond the Supreme Court, there are many ACA-related legal challenges pending at appellate and district courts across the country. This post summarizes the recent Supreme Court decisions and the latest in California v. Texas. A second post will discuss the status of long-standing ACA-related lawsuits and highlight newer lawsuits over ACA implementation. A third post will focus on the resolution of lawsuits over unpaid risk corridors payments. Health policy watchers know the Supreme Court issued two major ACA decisions in its recently ended 2019 term: Maine Community Health Options v. United States and Little Sisters of the Poor v. Pennsylvania. Both decisions have major implications for insurers and consumers and have been covered at length at the Health Affairs Blog.